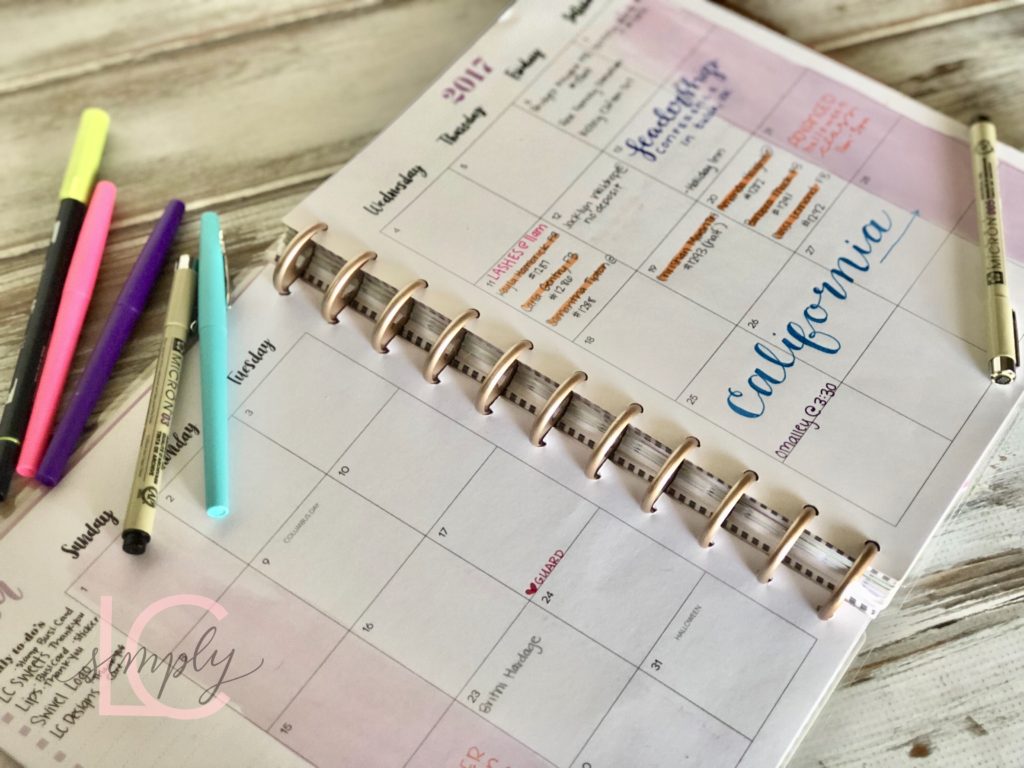 Recently, I attended the Pinners Conference in Arlington, TX. Don't know what that is? Imagine Pinterest in a giant convention center…it is every crafter and DIYers dream! There are classes, presentations, vendors, quick little craft stations and it is SO much fun. There are several locations all over the US – find one near you and thank me later 😉
So at the conference, I stopped by the Create 365 Happy planner booth. They didn't have products to sell, just completed planners to look at. I have always been fascinated by "planner people." I envy their beautifully designed pages and perfect handwriting. They make being busy look incredible! (I'm busy, I just don't make it look that good! LOL)
I consider myself a "wanna be" – I've purchased little stickers off Etsy and all the colorful pens…but realistically I have been a "functional" planner girl. I keep a planner for my cookies (see post about that here) but that was it. When I was teaching, I had to turn in my lesson plans online and I kept a giant desk calendar so I felt it was repetitive and pointless to have a planner for school. I am also a month-to-month kind of gal. I like to see it all at once, it's a big picture thing!
Anyway, shortly before the Pinner's Conference I had purchased my new 2018 planner. With my other business ventures (LC Lips, leading my team, cookie classes, etc.) I decided that I wanted to give the weekly lay out a shot. After visiting the Happy Planner booth, I. Was. HOOKED. Now I am still a lover of my Erin Condren and Plum Paper planners (that I discuss in this post), don't get me wrong! But let me explain to you why I recently made the switch:
1. You can easily remove, add and rearrange the pages. Yes, I know there are planners out there like that…binder type binding, but for some reason it just isn't the same. The big plastic rings on my Happy Planner are light, make it easy to add and remove and also let me fold half of it back and lay it flat. The planner I purchased was 18 months, but I wanted to add in fun paper, notes, etc. (#doallthethings) so I only actually keep 4 months at a time! This helps with it being so GIANT and heavy. I have purchased a separate set of rings to keep the months not yet used and even old the months I have already completed.
2. You can punch ANYTHING to put in it. They sell punches where you can punch any type of paper and add it to your planner. One of the designers at the conference doesn't even use her "planner" for the calendar/monthly spreads. She keeps sections of dividers for various notes and documents. What might I want to add to my planner you ask? Well, remember my order forms I fill out for each order? I punch those and after I fill them out, I place them in the appropriate week. No other folder to keep up with, no stuffing them in a pocket, etc. When the weeks orders are complete, I pull out the forms and put them away. (Why I keep them is still a mystery to me!)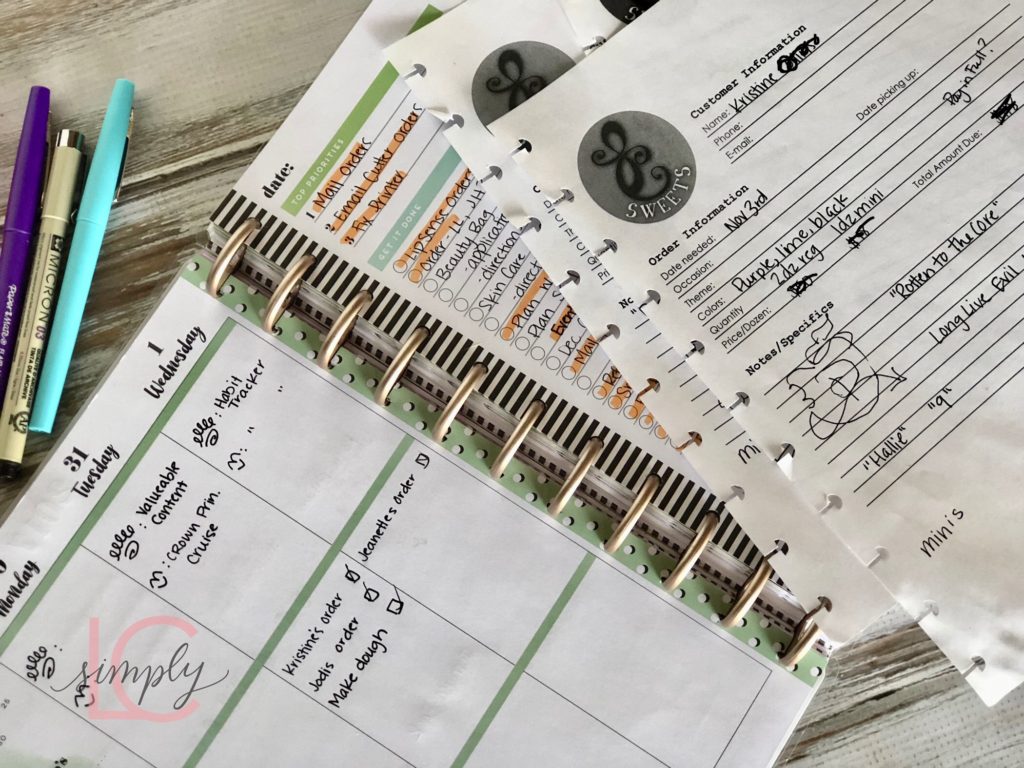 I also punch a piece of bullet paper to use as a monthly "Habit Tracker" – but that would bring me into a whole other post! Stay tuned friends!
3. You can buy it at Michaels or Hobby Lobby and it doesn't cost an arm and a leg. (Hello 40% off coupon!)
4. There are a ton of super cute accessories to customize it and pages you can add for various needs (budget, exercise, meal plan, lesson plan, etc.).
For example: I have used these pages for my "lists" that I stick in with each week. It helps me stay on track.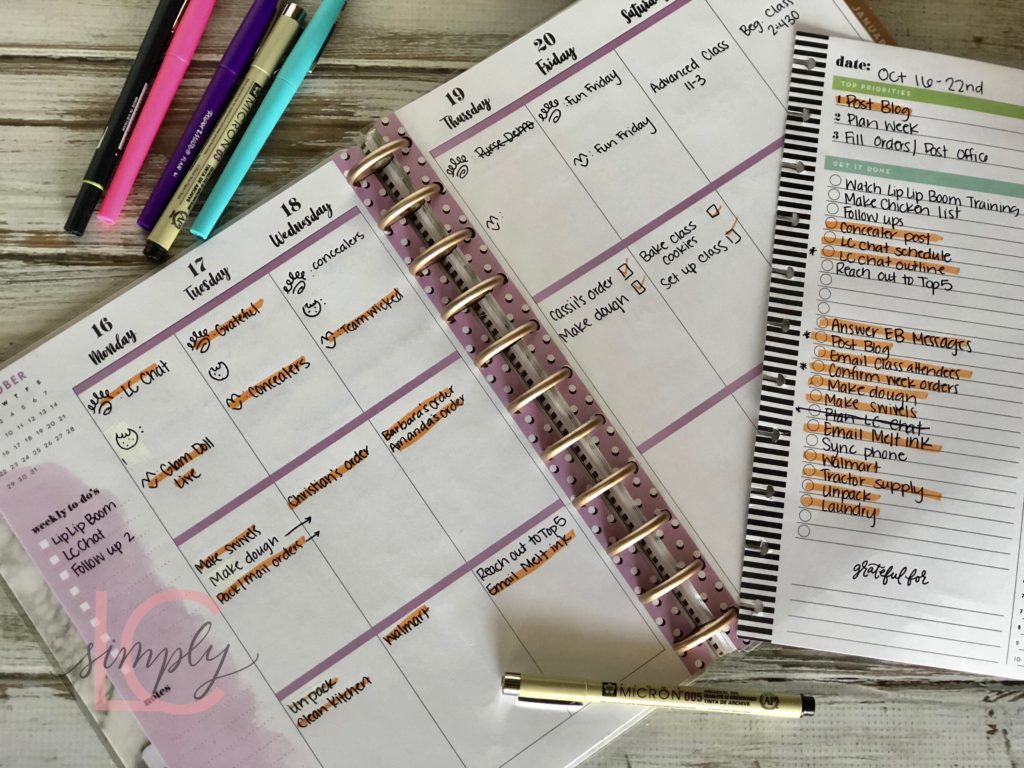 Does your Happy Planner make you as happy as mine does me? I hope so!
PS. There is no affiliation with any of these companies and I am definitely NOT getting paid to share. Sharing is caring and I just like to share things I LOVE!