While we are on the topic of orders…and the fact that I get asked about organization a lot, let's talk about staying organized through the everyday custom orders.
While I like to think I'm a fairly organized person, my house (most parts) will tell you otherwise! But when it comes to my business, in order to be efficient and on top of things – I have to be! I learned that the hard way. After several years of being in business, I have finally perfected my order system.
I use a monthly spread calendar. I have tried to use the weekly calendars, but those pages just end up going to waste and get in the way. I'm also a "big picture" kind of gal so I like to see the whole month at a time.
Some of my favorite planners:
Erin Condren – Deluxe Monthly Planner – This is a monthly only spread that comes with notebook pages. This is my all time favorite! I use the notebook pages for sketches, lists, etc. It comes in two sizes: 7″x9″ or 8.5″x11″ I prefer the larger one so that my monthly boxes will be bigger. I also just really like notebook sized planners. **The link provided is a referral link. If you decide to purchase, I would love for you to use my link – but not required! ;)**
Plum Paper – Plum Paper planners are comparable to EC in quality and pricing. They have a few more customizable add ons that I like. You can add budget planning, meal planning, wedding planning etc. sections to your monthly planner.
As I take my orders, I write them in on their pick up date. Pencil, I always use a pencil. This is super important to me because I hate scratch outs on anything.
Let's talk about deposits/retainers real quick. How many of you require payment upfront? In full or just a deposit? This is something I have not always done. I live in a small town (our sign says 1,099 people to be exact). While my address says Decatur, TX, I consider my town to be Boyd, TX. Most of my business comes from the other small towns around me. I treat my business like the small town business that it is. I have been blessed with great loyal and trustworthy customers! Up until about a year ago, I did not require anything to book other than a conversation and agreement.
One month, I had 2 different people "cancel" their orders last minute. Now while I normally would welcome the lighter workload, I didn't find that fair to the customers I turned away because I was booked solid. At the time I was still teaching so I was super limited on the number of orders I took. This girl needs some sleep. My schedule stays booked. Most of the time I was booked 3-4 months out. When someone would cancel the week of, it was impossible for me to fill the spot. I never kept a waiting list (that might be dumb on my part), but most of the people would not wait around in hopes of maybe getting cookies for their event – most likely they went and found another option. After this happened a couple of times, I decided I needed to implement a new policy.
While I said I am organized in my business, that does not include the creative process. I discuss orders with clients initially, but sometimes 5 months out they don't have any concrete plans other than they know the want cookies. It is really hard to give someone a quote based off of nothing. Also, while I may have an idea of the theme, sometimes I don't know exactly what I am doing until I turn on my oven. There is a method to my madness but part of that method is totally winging it. Because of this, I don't require payment in full or even a percentage down. Now if you do and that works for you, awesome! My way is not the right way or the only way, but it is what works for me.
The policy I came up with is a "Retainer Fee" that is required to book. It is $X amount of dollars and it is the same for everyone (unless its a large order – most of the time that can be discussed and I require half down). I invoice via PayPal. As soon as the invoice is sent the name goes on my calendar with the invoice number. When the invoice is paid (if it is a high demand date, must be paid within 24 hours or I will move to the next person), they get highlighted.
Here is where my "Order Form" comes in. I used to keep a notebook and have all the names, dates, and design details in there. It was a hot mess. Now, each order has their own form.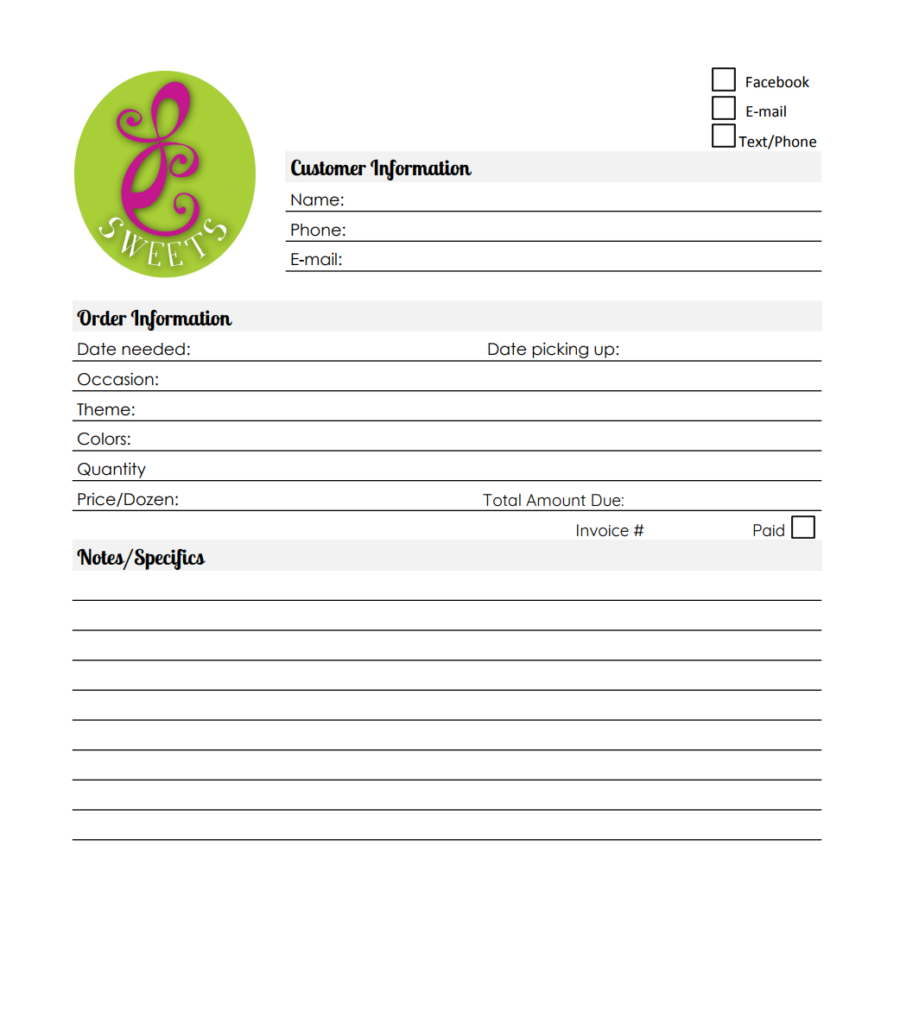 Download a PDF version of my order form.
Make a copy from Google Drive to customize your own version
This form was customized to my needs. Your needs may be different. One thing that is super important for me is the check boxes to tell me where or how they contacted me so I can easily go look back at the conversation if needed. I also put "FB, E, or TXT" next to their name on my calendar.
Each order has a form and if I'm really on top of my game and have them done ahead of time – I file them with a folder for each month. As the week comes, I pull the forms, sort by pick up date as well as similar colors and then it's time to get to work! Easy peasy!
Starting a business is not an easy task. Having resources and tips from those that have done it for a while is always super helpful. I hope that you find this useful and are able to utilize it to be more organized and efficient in your business! As always, I appreciate the feedback!
Have a system of your own that works for you? I would love for you to share it in the comments!