Every time I post a new LipSense color on my facebook page, I feel like "This one is my new favorite!" Originally Senegence had over 70 colors to choose from and I really felt like I found a new favorite every other color I tried. Recently, due to our unexpected high demand, the company cut it down to 36 colors to keep up. Now, I'm not going to lie…some of the colors that got cut were BEAUTIFUL and would probably be on my top 10, but we're going to stick with what is available. (They are revisiting the list and will be bringing some colors back in 2018 – we will find out which ones in October – EEK!)
Before LipSense I didn't wear lip ANYTHING. No lipstick, definitely not lip gloss and I even hated chapstick. Ask my Burt's-Bees-obsessed-husband. He always has one in his pocket and I refuse to kiss him right after he has applied. It's something about the minty waxy smell. Puke. Anyway – so, no lip stuff. The only time I wore lipstick was for my wedding and my 30th birthday. I was super insecure and self conscious the whole time I had it on – did it come off? Was it all over my face? Did I have lipstick on my teeth? That game is not fun.
When I decided to finally try LipSense, I reached out to my friend Erin. She posted her beautiful selfies that made me want to try every color. I told her – barely there color, no sparkle, no gloss, no glitter. The lightest ones I wanted to try were a shimmer or a frost. I took my chance with Cappuccino (not part of the 36) – literally the lightest color we offered. And you know what? I hated it. So I went back to try a different one (I WANTED to love it…I really did) – I went with Bombshell (hello shimmer!) and First Love. Erin told me first love would be too dark, but that I could try it. She was right – I didn't love those either. I quickly realized I didn't love any color because I wasn't used to wearing anything. Like I said before, I really did want to love it! It wasn't the product, it was just me getting used to something on my lips. I gave it a couple weeks and alternated between the colors eventually finding myself wanting ALL the colors (and that is when one becomes a distributor!). I find it kind of funny that I started out hating all of them, and now I truly struggled picking my top 10. I look in my case (with all the colors) and think "Oh! That one! And that one! OOOO…this one too!"
But here we have it. This indecisive girl picked 10. Most of these colors are "every day" colors just because that's the kind of girl I am. Are you more of a bright/fun/outgoing lip color wearer? We have LOTS of options for you – I'll save that post for a later date (but be sure to check out my site!)
My Top 10 Colors
**Not necessarily in any order because that would be too hard!**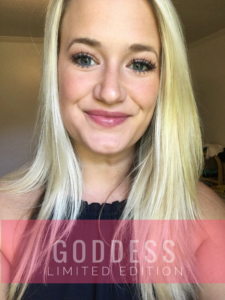 Goddess – (I'm including this one even though it was a limited edition. This is my ALL time favorite every day color. I will be buying my own personal stock if it ever comes back again.) This is a cool pink that has a little mauvey look to it. To me, it is the color of Pink Champagne but without the "champagne" (which usually is not how I prefer things ;)). Unlike Pink Champagne, Goddess is matte – which I love! It is super easy to apply and is very similar to my natural lip color.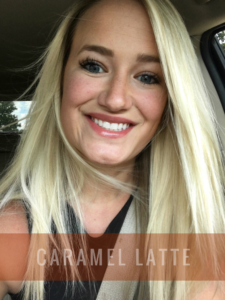 Caramel Latte – This is another "everyday" color. It is more on the warmer brown side than most of the colors I love.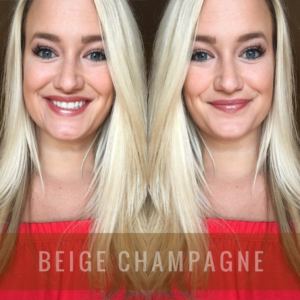 Beige Champagne – This is a frosty warm brown that is a GREAT starter color (any of the champagnes are). I feel like this color looks good on anyone!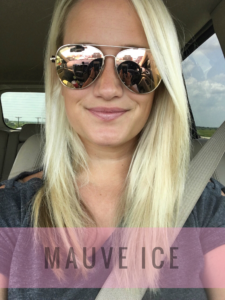 Mauve Ice – This is my fun Barbie Pink Color. It is a super frosty light bubble gum pink.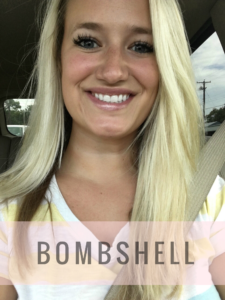 Bombshell – This is the "lightest" of our pinks but is a warmer more peach pink than Pink Champagne. It has a nude tone to it.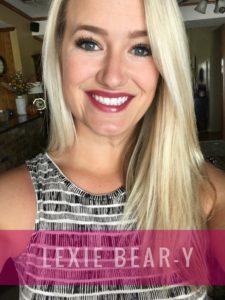 Lexie Bear-y – This is a beautiful purple/maroon color. It is a frost and applies easily. This is one of my go-to "brighter" colors and is beautiful for the fall!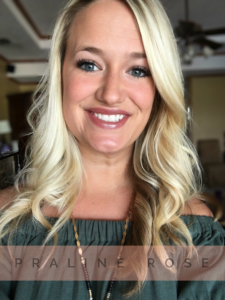 Praline Rose – Let me tell you about this super popular color. The first time I put it on in October, I HATED it. It looks like a greyish purple on me. I was super disappointed. As the weather started to warm up and my tan began to develop, I started to try colors again. This quickly became my go-to nude color. With sun-kissed skin, it was the perfect barely there lipcolor. It became my DREAM lipcolor.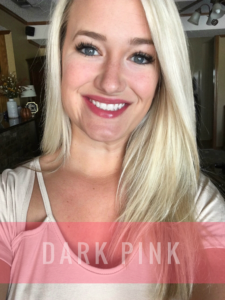 Dark Pink – Dark Pink is another must have that looks good on everyone. It's not quite a "bright" pink but definitely a "more there" lip color. It is also great for layering! I like to put it under Bella to pinken (not a word…) it up a little!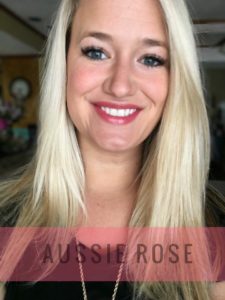 Aussie Rose – Oh Aussie Rose, this is a warm light pink that has a frost to it. It's another one of those colors you could wear daily.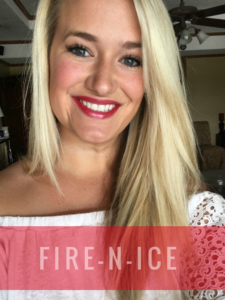 Fire-N-Ice – I am not a red lip kind of gal, so Fire-N-Ice is about as red as I get. This beautiful color is my favorite bright color. It's brighter than my usual but isn't a "Dang! Look at her lips!" kind of color. This was one of my biggest sellers last fall but is also a great summer color!
Which colors are your favorite?
You can contact me if you want to try any of these colors! I have every color in stock, ready to ship. You can also order directly from my site: www.senegence.com/lclips. Each order is packed with love from your truly. I appreciate any and EVERY order. 🙂