Cookie photos are important! Check out my photos from the beginning of this journey here. Hopefully you notice a HUGE difference from now ;).
When you spend HOURS on a small piece of art, you need to take good quality photos of them before they are devoured. Learning to take quality photos of your cookies is easy! I also feel like good photos are important if you have a cookie business. You want to have professional looking photos to represent your work.
Let's talk about…
Cameras!
You don't need any fancy schmancy camera…I use my iPhone! I mainly use my iPhone because I'm too lazy to use my SLR, plug in my card and upload photos to my computer. Most of my posting comes straight from my phone (like everyone else!). Now if you have a newer SLR that has wifi and can upload easily to your computer, have at it! But I just want you to know a big camera is not necessarily needed.
Lighting!
Natural lighting is best, but learning how to use it is important. Even with natural lighting you can take bad photos. When I was first starting out, I asked my wedding photographer for tips on getting good pictures. Cindy Mills of Cindy & Saylor Photography made me this awesome video! One big thing I took from it was using a reflector to help with shadows.
Ps. I LOVE her cookies! 😉
After watching her video, I created my set up by my front door using a chair and 2 pieces of foam board (one behind and one held to reflect the light).
These are some photos from my beginning days with a set up in my front doorway: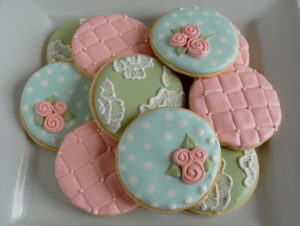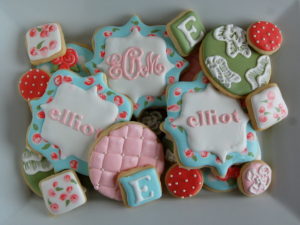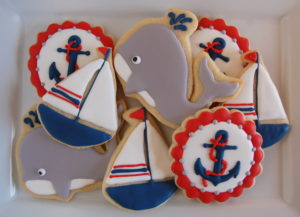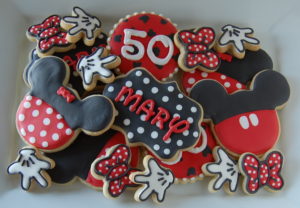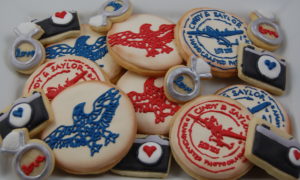 But let's be realistic – I don't always have time to take my photos when the sun is shining! Especially when I was teaching – I would RUSH home to get good daylight at 4pm before pick ups at 4:30!
Using a "light box" is a game changer. You never have to compete with time. I keep my light box set up all the time, but its collapsable and easy to store!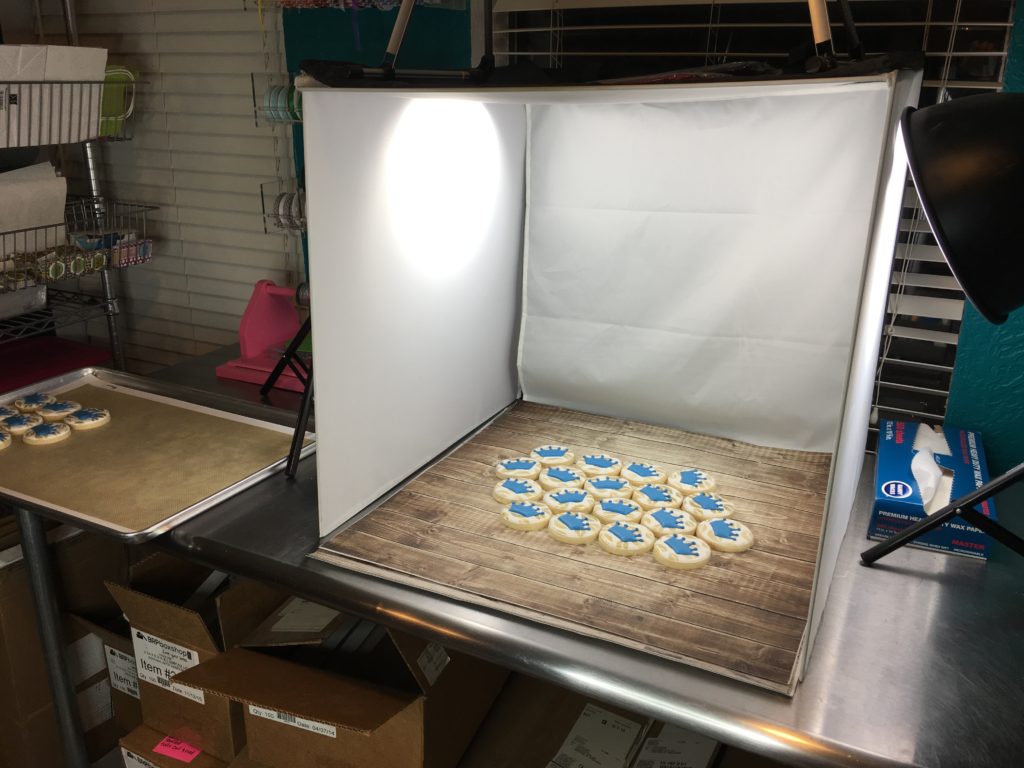 This is my photographing and packing station.
**Notice it is dark out side! You can't tell in my cookie photos ;)**
Light Box Kit: Table Top Lighting Tent – 24″
Light Set that I have: Lights
Backdrops!
You can buy various backdrops for different looks. Some store them on clip hangers (genius!), but I just lay mine together since I leave my photo box up all the time. The vinyl is super easy to clean and photographs nicely!
Backdrops or photoset ups sort of become your "style."
For example – SemiSweet Mike has super clean photos and records his videos on actual marble. When I see a marble backdrop, I think of him!
There are several that use just a clean solid white background – super effective! Check out Jana Lee's Bake Shop and Tiny Kitchen Treats!
I have several backdrops from Swanky Prints on Etsy. This is the pack I originally purchased, but you can customize any of them to your liking!
Another great source for quality back drops is Ink & Elm.
I choose the 2′ x 2′ backdrops over the smaller ones so I can fit more cookies and get a variety of angles.
Editing!
Nothing makes me cringe more than when I see beautiful cookies with an awful filter on them. I try to steer clear of anything that over edits. My favorite filters on Instagram (if I add a filter..) are Valencia and Clarendon (toned down). I feel they still accurately represent the colors and textures of the cookies.
Because of the quality lighting in my light box, any actual photo editing (in LightRoom) is really not needed.
Watermarks!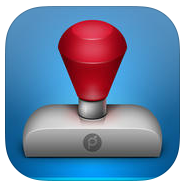 Watermarks are a must (in my opinion)! Now, I'm not a huge stickler when it comes to people borrowing my designs or ideas (although a shout out always makes me feel good), but using someone else's actual photos without credit is an absolute NO-NO. Whether it's just to show off someone's work or to say "I can make these for you…" Watermarks will help prevent others from using your photos!
I have an all white version with a transparent background (.png file) saved on my phone for this purpose. You can also just create a "Text Watermark" where you type in your business name. When choosing and applying a watermark, you want to make sure it is somewhat transparent and does not distract from the subject of the photos. You also want to place it strategically so that it cannot be easily cropped out.
My favorite app for adding watermarks is iWatermark. It saves your watermark (several different ones if needed) and you can even "batch process" multiple photos. I find it very easy to use!
I love to see the progression of my cookie career – bad photos and all! We all start somewhere! I would LOVE to see your photos if you end up using this light box. Please feel free to tag, reach out and share them with me!
Want to learn more? Check out some advice from the pros:
Sugarbelle also has a great blog post on her photos!
Check out Bearfoot Baker's post about backgrounds!
**Disclaimer – This is what I use. It is not the only way, nor may it be the "right" way! I am not a photographer, but I am sharing what works for ME!**